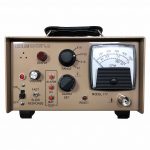 Ludlum 177
$30
Alarm Ratemeter
Used with GM detector or alpha probe at frisking station.
Weekly Price: $30Monthly Price: $75
Description
The Model 177 is a rugged benchtop ratemeter with alarming capability. These units are very popular for frisking operations at stations where line power is available but can also be used in portable applications for up to 50 hours using the internal rechargeable battery. The 177 supports GM and scintillation type detectors and displays the results on a linear readout analog meter. The audio alarm is adjustable from 0 through 150% of full scale and is factory set to latching. Reconfiguration to non-latching can be accommodated via a minor internal change. Front panel controls include a 4 position rotary switch for selecting each detector decade, alarm set control, audio volume adjust, fast/slow response switch, power on/off switch and push buttons for count reset, battery test, high voltage test and alarm test. The back panel contains the power cord connection and a 9 pin type "D" plug that supports, rapid battery charging, 6 – 9.6 volts power output, alarm output, and pulse output.
Specifications
INDICATED USE: Gross counting
SUGGESTED DETECTORS: GM; scintillation; proportional
CONNECTOR: Series "C" (others available)
SCALER: 6 digit LED display with a range of 0 – 999999 counts
SCALER LINEARITY: Reading within 2% of true value
TIMER: Pushwheel adjustment from 0 – 999 minutes with selectable X0.1 and X1 multipliers
METER DIAL: 0 – 2.5 kV
METER: 2.5"(6.4 cm) arc, 1 mA analog type
HIGH VOLTAGE: Adjustable from 200-2500 volts (will support 60 megohm scintillation loads)
THRESHOLD: Adjustable from 1.0 – 10.0
DISCRIMINATOR: Adjustable from 2 – 100 mV
RS-232: 9 pin connector allowing for printer or computer interface
POWER: 95-250 Vac 50-60 Hz or 4 each "D" cell batteries (housed in externally accessible compartments)
BATTERY LIFE: Typically 120 hours with alkaline batteries (battery condition can be checked on meter)
CONSTRUCTION: Aluminum housing with beige powder coat paint
TEMPERATURE RANGE: -4° F to 122° F (-20° C to 50° C)
SIZE: 8.5" H x 5" W x 9.3" D (21.6 x 12.7 x 23.5 cm)
WEIGHT: 6.9 lbs. (3.1 kg) w/o batteries
Optional Printer Specifications
Can be setup to provide date/time stamp on each line.
POWER: comes with 120 Vac wall transformer, outputs 9 Vac
SPEED: 33 lines per minute
PAPER ROLL: standard 2.25″ wide calculator paper
RIBBON LIFE: 200,000 characters
REPLACEMENT RIBBON: Epson HX-20 cartridge
SIZE: 4.05″ W x 4.5″ D x 2.0″ H (10.3 x 11.4 x 5.1 cm)