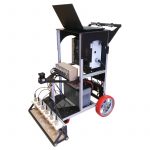 Model 102F Floor Scanner
$1,300
Indoor Survey System
The ERG Model 102F is our most advanced indoor surveying system. The system, built on the functionality of the Ludlum 239-1F, features a six zone Zinc Sulfide plastic scintillator detector, stand-alone indoor positioning system (no external beacons) with less than two inch accuracy, a motor driven axle for maintaining speed, and all the necessary software to perform calculations and export data to Shapefile (.shp), Excel, or raw text. Laptop is included in rental price.
Weekly Price: $1300Monthly Price: $5200
Description
Designed for ease of operation and maximum efficiency of data collection and presentation.
Our alpha/beta surface scanner offers significant time savings while essentially eliminating transcription errors and improving the quality of data. The system combines high accuracy indoor positioning (sub inch) and high-efficiency zinc sulfide plastic scintillator detectors to obtain data conformed to MARSSIM requirements.
Our floor scanner has been utilized in dozens of facilities and has continually been successful at locating contamination in areas otherwise labeled as clean. The effectiveness of the 102F is due to its ability to precisely control the scanning speed of the detector and the surface to detector height. In addition, the real-time mapping ensures that total scanning coverage is obtained and provides validation of the work to regulators.
The 102F not only eliminates the error associated with traditional hand scanning, it also incorporates a six zone high-efficiency zinc sulfide detector that allows the same work to be performed six times faster. When also accounting for the automated data collection and minimal post-processing, the system results in enormous cost savings and superior data quality.
| | |
| --- | --- |
| Proven Technology | Consistent and Reliable Performance |
| Used successfully by numerous DOE laboratories and industrial sites | User-set scan speed and detector height for consistent and reliable detection capabilities. |
| | |
| Eliminates Data Transcriptions | Real-Time Mapping and Notifications |
| Electronic data recording and automatic conversion from counts to surface activity eliminates transcription errors. | Ensures total scanning coverage is obtained and provides immediate feedback to the operator regarding the contamination levels prior to leaving the area. |