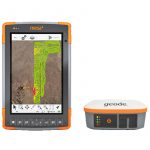 RadScout GPS Gamma System
GPS Survey System
The ERG RadScout is our most advanced Handheld GPS gamma survey system. The system comes with a touch enabled data logger, sub-meter GPS receiver, our bluetooth 2221, backpack, and all associated cables and charging electronics. The system comes with all necessary software to view real-time data in the field, export field data to removable drive (included), and export all data to shapefile format.
ERG RadScout with 44-10
Weekly Price: $565 Price/4 Weeks: $2,090
ERG RadScout with 44-20
Weekly Price: $775 Price/4 Weeks: $2,440
ERG RadScout with FIDLER
Weekly Price: $725 Price/4 Weeks: $2,590
Trimble Pro XRT, XH or ERG RadScout
Weekly Price: $450 Price/4 Weeks: $1,800
Description
Real-Time Mapping with Sub-Meter Accuracy
Designed specifically for gamma GPS surveys, the RadScout system incorporates a ruggedized handheld tablet, sub-meter accuracy GPS receiver, wireless 2221, and the ERG Rad Scout software that provides real-time mapping and robust data collection.
The system provides all the necessities of a gamma data collection system, such as real-time data processing and navigation, but without the need for expensive processing software. Data are exported to a removable drive and may be managed using desktop software (included), or may be exported directly to shapefile format.
The ERG RadScout software incorporates a fully customizable legend for real-time and background gamma data. This capability significantly increases data quality and minimizes costs by allowing field personnel to bound contamination, locate hot spots, and ensure survey completion, all while in the field.
Supports Shapefiles and georeferenced image backgrounds

Location-to-point navigation

Supports all major coordinate systems
---
Our 2221s incorporate Bluetooth radio communication which allows a completely cable free interface between the meter, data logger, and GPS receiver. When sub-meter accuracy is not necessary, the tablet GPS may be used to significantly reduce the necessary hardware in the field.
Create and add feature points in Shapefile format

Includes tablet serial port when wired connection is preferred

Exports data directly to removable drive (no special cables required)
Free training is available at the ERG office for the setup and operation of the system. ERG will provide training personnel and lunch or dinner for the day.