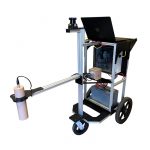 RIGS
$1,050
ERG is pleased to offer the ability to collect spatially-correlated data indoors where GPS is limited or not available. The system utilizes a single advanced scanning laser to continuously map the room and determine the position of up to three detector simultaneously. The system comes with all the necessary software to function check, collect, and process gamma data. Detectors are not included in the rental cost. Please use pricing for detectors from the ERG Equipment Rental webpage.
Weekly Price: $1050Monthly Price: $4200
Description
A new way to collect indoor spatially-correlated gamma data.
The Real-Time Indoor Survey (RIGS) system field computer includes all necessary software to perform the functions associated with on-board equipment, including instrument function checks, surveying, and data export. An additional software utility is included to combine all collected survey data and perform data analysis functions, such as viewing survey data statistics and merging data filed. The system has been proven to significantly improve data quality, efficiency, and reporting.