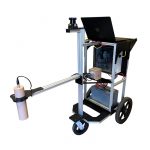 RIGS
ERG is now pleased to offer the same capability indoors where GPS is limited or not available. The system utilizes a single advanced scanning laser to continuously map the room and determine the position of up to three detectors simultaneously.
Weekly Price: $1,050     Price/4 Weeks: $4,200
Description
A new way to collect indoor spatially-correlated gamma data.
ERG was one of the first companies to revolutionize the process of collecting spatially correlated gamma data in outdoor environments due to the advancements in GPS. Since then, the GPS-based gamma survey has become the standard for radiation characterization, remediation, and free release.
Real-time display
Displays the count rate and spatial location in real time to detect and bound hot spots and areas of interest.
Eliminates Data Transcriptions
Electronic data recording eliminates the need to grid and record measurements manually.
Multi-detector configuration
Supports up to three detectors simultaneously to cover more area.