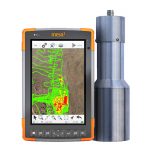 RadScout System with 44-20
$775
GPS Survey System
The ERG RadScout is our most advanced Handheld GPS gamma survey system. The system comes with a touch enabled data logger, sub-meter GPS receiver, our bluetooth 2221, backpack, and all associated cables and charging electronics. The system comes with all necessary software to view real-time data in the field, export field data to removable drive (included), and export all data to shapefile format.
Weekly Price: $775Monthly Price: $2440
Description
Real-Time Mapping with Sub-Meter Accuracy
Designed specifically for gamma GPS surveys, the RadScout system incorporates a ruggedized handheld tablet, sub-meter accuracy GPS receiver, wireless 2221, and the ERG Rad Scout software that provides real-time mapping and robust data collection.
The system provides all the necessities of a gamma data collection system, such as real-time data processing and navigation, but without the need for expensive processing software. Data are exported to a removable drive and may be managed using desktop software (included), or may be exported directly to shapefile format.