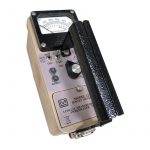 Ludlum 12
$30
Ratemeter
General survey meter used with probes to measure rates/counts. Adjustable HV and threshold.
Weekly Price: $30Monthly Price: $75
Description
This general purpose, handheld analog ratemeter supports GM, proportional and scintillation type detectors. The aluminum cast instrument housing with its separate battery compartment and accompanying metal handle offer an industrial robustness and quality that promote long lasting protection and instrument life. The front panel controls include a rotary switch for selecting the 4 decade range, instrument shut off and battery test, an audio on/off switch, a fast/slow response switch, a high voltage display button, and a count reset button The analog meter face comes in a variety of options to support the measurement units and ranges for the additional external detector selected. A 39″ long straight type detector cable with "C" style connector and batteries are included in the price of the instrument.
Specifications
COMPATIBLE DETECTORS: GM, PROPORTIONAL, SCINTILLATION
METER DIAL: 0-500 cpm, 0-2.5 kV, BAT TEST (others available)
MULTIPLIERS: X1, X10, X100, X1000
SIZE: 6.5″ H x 3.5″ W x 8.5″ L (16.5 x 8.9 x 21.6 cm)
WEIGHT: 3.5 lbs (1.6 kg) including batteries
HIGH VOLTAGE: Adjustable from 200 – 2500 volts
THRESHOLD: 1 – 100mV
WINDOW: No
OVERLOAD: Option available
BATTERY LIFE: 2000 hours