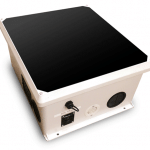 Model 104G GPS Array System
$2,500
High Density GPS Survey System
The ERG 104G utilizes a Ludlum 4612, a common GPS receiver, and an IMU to obtain gamma measurements with extremely high accuracy positions from up to 12 detectors simultaneously. The system comes with an interface box, and a tablet or laptop for data collection. Rental price also includes all analysis software necessary to generate shapefile (or similar) survey files. Weekly and monthly pricing do not include radiation detectors or cart/UTV. Detectors are not included in the rental price. Please use pricing for detectors from the ERG Equipment Rental webpage, and call for cart/UTV pricing options.
Weekly Price: $2500Monthly Price: $5700
Description
Superior GPS Accuracy for up to 12 Detectors Simultaneously
The ERG 104G GPS Interface Box was developed to provide a cost-effective solution to obtaining high-density, high-accuracy gamma data from up to 12 detectors simultaneously. The data are logged to a computer or tablet and displayed in real time, allowing data validation before leaving the survey area.
When compared to traditional methods used for gamma array setups, the 104G provides enormous cost savings by combining multiple GPS receivers, antennas, and data loggers, all within a single unit.
The 104G has been used at numerous DOE and Air Force sites while saving money due to its highly efficient production rate. The system has consistently demonstrated its effectiveness by successfully finding contamination in areas previously labeled as clean.